Asbestos Consulting Services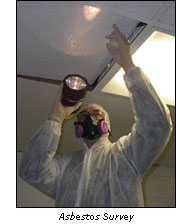 Asbestos is a known carcinogen. It is found in most buildings built before 1980 and is still used today in several products frequently used in construction. In response, Federal, State and local agencies have enacted regulations to protect the health and safety of building employees, occupants and contractors. CNS Environmental assists clients in interpreting and complying with the increasingly complex regulations surrounding asbestos. We have worked closely with all levels of governmental agencies and have maintained close relationships with these agencies over the years.
CNS Environmental provides regulatory assistance, consultation, and on-site project monitoring to clients from project initiation through final project close-out, emphasizing a cost-effective, practical asbestos solution.
Services include:
Environmental Air Monitoring and Analysis
Our staff experience includes asbestos consulting projects encompassing all types of properties, such as schools and universities, government facilities, airports, prisons, commercial properties, retail facilities, and residential properties.
Our Asbestos Project Managers are State of California Division of Occupational Safety and Health (DOSH), Certified Asbestos Consultants.